Welcome back!
The Boise Pathways Master Plan is coming together! The purpose of this plan is to create a vision for the future of Boise's pathway network, and will result in infrastructure and policy recommendations to implement new pathways across the City. Below is a brief update on the plan and opportunities for you to provide feedback. We look forward to hearing from you!
Since we last heard from the public…
Based on the existing conditions analysis and the results of the first phase of public outreach earlier this Spring, the planning team has been busy refining the goals of Boise's Pathways Master Plan, developing recommendations for new pathways, and evaluating projects to determine top priorities. Now we need your feedback!
Goals of the Plan
The goals below drive the final recommendations of this plan and will guide future investments.
Do you have any specific comments on the goals?
Potential Priority Projects
Which pathways should the City invest in first? The City developed a strategy to help prioritize the over 150 newly proposed pathways. Each proposed pathway segment was evaluated based on certain criteria related to the goals above.
The outcomes of this evaluation process resulted in a ranked list of top projects. The top 30 projects are highlighted in yellow in the map below. However, the evaluation process is not complete, and results are subject to change based on additional evaluation criteria including public support, engineering feasibility, and partner support.
Interactive Map
The map below illustrates a draft network of proposed pathways. Please explore the recommendations!
The Top 30 projects are highlighted in yellow. Of these 30 projects, we want to know what your Top 5 priorities are. Note that top priority projects are subject to change. 
Some proposed pathways will require working with property owners, irrigation districts, or other stakeholders. Each specific segment will be evaluated to address unique safety, operations, or privacy needs.
Open in a new tab
Open in a new tab
Boise Pathways Master Plan Timeline
The Boise Pathways Master Plan is slated for completion by August 2021. Timing for implementing the pathway recommendations from this plan is yet to be determined, as funding for pathway design and construction has not yet been secured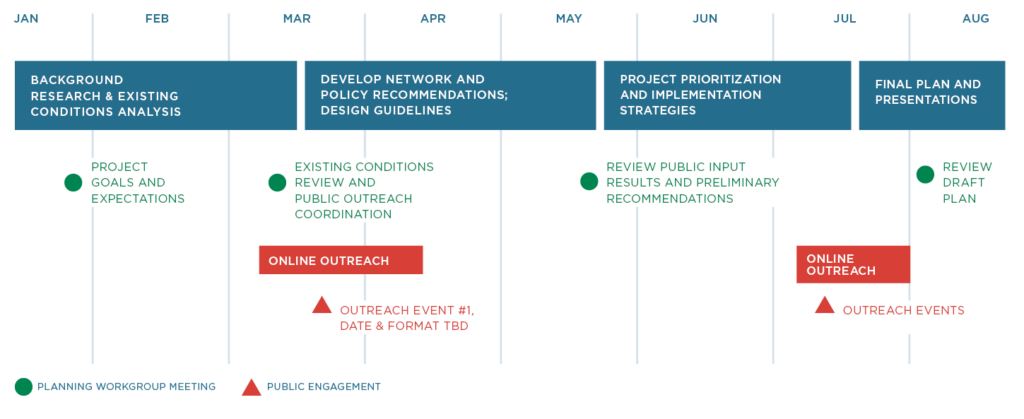 Get Updates
If you have signed up to receive notifications about the Boise Pathways Plan, you have been added to the City's In The Know email where you will receive updates on the Boise Pathways Plan. If you would like to sign up for In The Know, enter your information below.